Board of Directors
The Board of Directors has monthly meetings on the third Wednesday of each month. If you are interested in becoming a Board Member, please contact (916) 868-7820, or send an e-mail to info@my-sisters-house.org.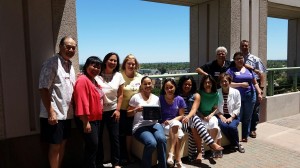 Jessica Heskin, Board President
California Department of Public Health
Jessica is the coordinator for the Violence and Sexual Assault Support Services at California State University, Sacramento. She has a B.A., Double Major—English and Women's Studies and a M.A. Behavioral Sciences in Education—Women's Studies Option from the California State University, Sacramento. She had worked in the area of domestic violence and sexual assault for almost fifteen years. Ms. Heskin is a consultant and presenter for various agencies regarding issues of violence, conflict resolution, and victim's rights.
Yen Marshall, Board Vice President
Professional Management Consultant
Yen plans, coordinates and implements strategies to support AT&T strategic initiatives statewide, with the focus on API and education segments for California. She establishes relationships and participates in maintaining contact with key government, community and business leaders, and coordinates programs that promote good corporate citizenship and enhance community good will. Yen is active in the community and passionate about giving back and helping others; especially the underserved. She serves on the Board of Directors for My Sister's House, Greater Sacramento Urban League, and leads an annual initiative to promote STEM careers for middle school students. Yen is the current President of the AT&T's Employee Resource Group, APCA (Asian Pacific Islanders for Professional and Community Advancement). She is also very engaged with other internal employee resource groups, supporting career development and mentoring for all. Yen lives in Sacramento with her husband. They have a daughter and a son.
Michelle Dang, Treasurer
California State University, Sacramento – School of Nursing
Latika Sharma, Secretary
State of California, Department of Managed Health Care
Latika Sharma works as an attorney for Wilke, Fleury, Hoffelt, Gould, & Birney, LLP and is a member of the Women Lawyers of Sacramento, South Asian Bar Association and ABAS Law Foundation. Latika has a passion for serving the community and also volunteers her time with Big Brothers Big Sisters as a mentor for youth. She received her Juris Doctorate at the University of California, Davis School of Law.
Charles Panadero
Bryan Cruz
Chris Gee Schoon-Tong
Beach Hut Deli Owner
Camille Thomas
Kao Saephanh
Sacramento Municipal Utilities District (SMUD)
Kao holds a Bachelor's of Science in Business Administration, with an emphasis on Marketing from Sacramento State University. He's been with SAFE Credit Union for over 10 years. Kao is an active member of the community and seeks engagement that exercises his 14+ years of banking experience, along with marketing/communications expertise – especially to bring resources to underserved communities. He is currently serving on the Iu-Mien Community Services Board, as the Vice President of the Board, Kao has also served as the Chair of Iu-Mien Student Conference committee. He is an active ambassador with the Asian Chamber of Commerce and the 2015 Asian Chamber of Commerce Ambassador of the Year Award Recipient.
Kao is motivated to help others and impact lives, all while serving with a positive attitude.
Moira Sharma, PsyD
Kaiser Permanente
Stefanie Cruz
Cole Pro Media
Stefanie Cruz has been an advocate for My Sister's House for more than a decade. She served on the Friends Committee, and was twice named a Hero of Hope. She has also emceed numerous MSH events. Currently, Stefanie is a Media Consultant for Cole Pro Media. She has also worked as a Public Information Officer for the CA Employment Development Department. For 12 years, she served as news anchor and reporter for several Sacramento TV stations. Stefanie lives in Sacramento with her husband and two children.
Susan Granzella
Executive Director
Nilda Guanzon Valmores
Nilda Valmores has had the honor of operating My Sister's House, the Central Valley's only shelter for battered Asian/Pacific Islander women and children since September 2004. Prior to joining My Sister's House, Nilda served as the Community Development Director for Mercy Housing California for 5 years. For more than 15 years, Nilda has worked with non-profit organizations on a statewide level addressing issues affecting children and the poor in the education, social services, and housing arenas.
Friends Committee
Angela Lai, California Department of Managed Health Care
Carla SB Carr, Financial Committee
Darrel Woo, Board of Education 
Denise Suen, CLS
Derek Ledda, Department of Education (Retired), Maharlika Lions
Elaine Chiao, Child Protective Services
Ellen Yin-Wycoff, Cal Casa
Gary Kikumoto, Kikumoto Real Estate
Heidi Pyle, Sacramento Municipal Utilities District (SMUD)
Jean Chong, Asian Pacific State Employees Association (Retired)
Kathryn Doi, Hanson Bridgett Law Firm
Nancy P. Lee, Office of Aids
Ophelia Riego, Riego Insurance
Rosie Dauz, Golden1
Sharon Ito, California State University, Sacramento – Communications/Public Affairs
Sonia Fernandes,  California of Managed Health Care
Stephanie Tom, Oracle
Sujatha Moni, California State University, Sacramento – Professor
Zima Creason, Mental Health America
Staff
My Sister's House paid staff also includes: Deputy Director, Program Managers for the Women to Work Program, Human Trafficking Specialist, Volunteer and Communications Coordinator, Employment and Immigration Advocate, Shelter Assistant, Data Evaluator/Administrative Assistant, Financial Officer, and to support its efforts, My Sister's House relies on its wonderful volunteers.