Board of Directors
The Board of Directors has monthly meetings on the third Wednesday of each month. If you are interested in becoming a Board Member, please contact (916) 868-7820, or send an e-mail to info@my-sisters-house.org.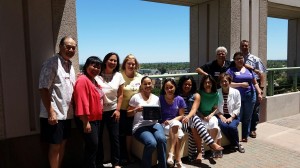 President
Erin Maurie
First 5 Sacramento
Ms. Maurie is the Communications and Media Officer for First 5 Sacramento. Her strategic communications and community development experience has spanned more than 15 years working in private, government, and non-profit organizations. For the past seven years, Erin has focused on publicizing children's health, development, and safety programs at First 5 Sacramento, a commission of Sacramento County. During her career, Erin has developed effective working relationships with various businesses and community leaders with Sacramento County. Erin's communication, event planning and marketing campaigns have earned international, statewide and local awards and recognition. She is an avid volunteer throughout the community, including works for homelessness, animal shelters, special needs, women's mentoring, and child literacy.
Vice President
Yen Marshall
AT&T External Affairs
Yen plans, coordinates and implements strategies to support AT&T strategic initiatives statewide, with the focus on API and education segments for California. She establishes relationships and participates in maintaining contact with key government, community and business leaders, and coordinates programs that promote good corporate citizenship and enhance community good will. Yen is active in the community and passionate about giving back and helping others; especially the underserved. She serves on the Board of Directors for My Sister's House, Greater Sacramento Urban League, and leads an annual initiative to promote STEM careers for middle school students. Yen is the current President of the AT&T's Employee Resource Group, APCA (Asian Pacific Islanders for Professional and Community Advancement).She is also very engaged with other internal employee resource groups, supporting career development and mentoring for all. Yen lives in Sacramento with her husband. They have a daughter and a son.
Vice President
Jessica Heskin
CA Department of Health
Jessica is the coordinator for the Violence and Sexual Assualt Support Services at California State University, Sacramento. She has a B.A., Double Major—English and Women's Studies and a M.A. Behavioral Sciences in Education—Women's Studies Option from the California State University, Sacramento. She had worked in the area of domestic violence and sexual assault for almost fifteen years. Ms. Heskin is a consultant and presenter for various agencies regarding issues of violence, conflict resolution, and victim's rights.
Treasurer
Latika Sharma
CA Department of Managed Health Care
Latika Sharma works as an attorney for WIlke, Fleury, Hoffelt, Gould, & Birney, LLP and is a member of the Women Lawyers of Sacramento, South Asian Bar Association and ABAS Law Foundation. Latika has a passion for serving the community and also volunteers her time with Big Brothers Big Sisters as a mentor for youth. She received her Juris Doctorate at the University of California, Davis School of Law.
Members
Corrine Yee Joe
Sacramento Children's Home, Retired
Corrine Yee Joe was a member of My Sister's House's first full board of directors 10 years ago. She stayed on the board until about 6 years ago, joined My Sister's House Friends Committee, until asked to serve on board again in late 2010. Prior to her retirement from the position of Chief Operating Officer at Sacramento Children's Home, Corrine had over 30 years in Healthcare Management. Her former board memberships include Health for All, Asian Community Center, Sacramento Children's Home, Sacramento Chinese Community Service Center and Sorpotimist International of Sacramento
Elisha Choi-Panadero
Elisha has been an accounting professional for 15 years in Sacramento area. Currently, she performs all receivables accounting and reconciliation responsibilities for East Bay Hospitals for Sutter Health. It is very important for her to establish and maintain strong, collaborative working relationships with my customers to identify additional ways to be of service and ensure customer satisfaction. Previous employers include Franklin Templeton, Perry-Smith LLP, and Xerox.
She was born in Seoul, Korea and moved to United States to study abroad at the age of 14. In addition, she received her MBA from University of California, Davis and is a Certified Public Accountant in California. Elisha mobed to Sacramento from Chicago in 2002 with my husband, Charles Panadero.  They have a 17 year old daughter, and an 8 year old son.
Kao Saephanh
Kao holds a Bachelor's of Science in Business Administration, with an emphasis on Marketing from Sacramento State University. He's been with SAFE Credit Union for over 10 years. Kao is an active member of the community and seeks engagement that exercises his 14+ years of banking experience, along with marketing/communications expertise – especially to bring resources to underserved communities. He is currently serving on the Iu-Mien Community Services Board, as the Vice President of the Board , Kao has also served as the Chair of Iu-Mien Student Conference committee. He is an active ambassador with the Asian Chamber of Commerce and the 2015 Asian Chamber of Commerce Ambassador of the Year Award Recipient.
Kao is motivated to help others and impact lives, all while serving with a positive attitude.
Ron Tom
Governmental Advocates
Ron Tom was a practicing pharmacist for 16 years prior to going into the state legislature, where he was consultant on numerous health committees. For the past 29 years, he has been a lobbyist representing a diverse and varied list of clients in practically every business, profession, and industry represented at the state legislature. Currently, he is retired from the lobbying firm of Governmental Advocates.
Sharon Ito
Sharon Ito, a longtime journalist, joined the board of directors of My Sister's House in 2012.She spent more than 25 years in the news industry as a TV news anchor and an online host and producer in Sacramento, and as a TV reporter in Los Angeles. She is now a member of the strategic communications and marketing team at Sacramento State's College of Continuing Education.
Sharon has emceed numerous community events over the years, and she continues to work with young people through the California Scholastic Journalism Initiative and the girls' leadership organization Strive for Strength.
Sharon is a graduate of the University of the Pacific in Stockton. She is married to reporter George Warren, and they have a teenage daughter, Samantha.
Toni N. Hoang, MSBA, Esq.
Sacramento Municipal Utility District
Toni Hoang is responsible for maintaining and managing an integrated enterprise-wide risk framework for the Sacramento Municipal Utility District (SMUD). She is responsible for identifying, assessing, managing, coordinating and prioritizing organizational wide risks to maintain early warning signals, changes in and emerging risks and prioritizing risks to allow for strategic allocation of resources.  In her role, utilizing industry best practices, she has established a quantitative method for prioritizing the various risks of the organization. This is important in focusing resources on efforts which optimize the achievement of the organization's goals.
An expert in contractual & project risk mitigation, a Certified Public Procurement Officer, law school graduate with admittance to the California State Bar, an MSBA in International Finance & Business Management, she has over 10 years of experience mitigating risks in leadership and non-leadership roles utilizing both quantitative and qualitative methods.
An active member of SMUD's Community Service and Career Ambassador Programs. Born in Stockton, CA, Toni has always been passionate about serving the community.  Toni believes in advocating for and fighting for justice and individual rights of the most exploited communities in our society (human trafficking, underprivileged, and aging population).  She lives out her core values in her commitment to the community under the notion of "equal justice for all."  As an active member of the California State Bar, Toni utilizes her legal expertise to provide pro bono services to the community.
Advisory Director
Deputy Chief Brian Louie
Sacramento Police Department
Deputy Chief Brian Louie is a 27-year veteran of the Sacramento Police Department, and currently heads the Office of Technical Services, which consists of Personnel/ Backgrounds, Public Safety Information Technology, Records, Dispatch (Comm Ctr), Fleet and Training Divisions. Brian is one of the founding members of the Asian Peace Officers Association.
Executive Director
Nilda Guanzon Valmores
Nilda Valmores has had the honor of operating My Sister's House, the Central Valley's only shelter for battered Asian/Pacific Islander women and children since September 2004. Prior to joining My Sister's House, Nilda served as the Community Development Director for Mercy Housing California for 5 years. For more than 15 years, Nilda has worked with non-profit organizations on a statewide level addressing issues affecting children and the poor in the education, social services, and housing arenas.
Friends Committee
Al Lee
Alice Lytle
Angela Lai
Betsy Uda
Bonnie Chiu
Carla Carr
Caryn Ng
Derek Ledda
Elaine Chaio
Ellen Yin-Wycoff
Gary Kikumoto
Genevieve Shiroma
Glenn Takeoka
Guarav Kalra
Hach Yasumura
Jean Chong
Kara Ueda
Kathryn Doi
Kiyomi Burchill
Ligaya Hattari
Meea Kang
Nancy P. Lee
Ophelia Riego
Paula Winn
Sonia Fernandes
Stefanie Cruz
Sujatha Moni
Susie Lui
Tam Ma
Thuong Le
Willie Bulda
Financial Committee
Al Lee
Hai Nguyen, CPA
McClatchy Corporate
Monica Patel
Latika Sharma
Corrine Yee Joe
Other Staff
My Sister's House paid staff also includes: Deputy Director, Program Managers for the Women to Work Program, Human Trafficking Specialist, Volunteer and Communications Coordinator, Employment and Immigration Advocate, Shelter Assistant, Data Evaluator/Administrative Assistant, Financial Officer, and to support its efforts, My Sister's House relies on its wonderful volunteers.