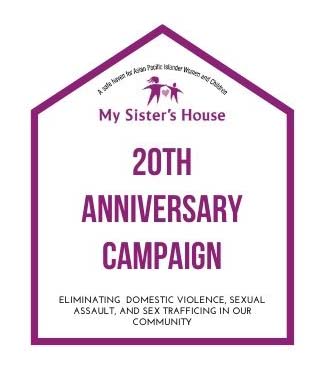 Thank you to our donors for supporting My Sister's House in reaching our campaign milestone and for joining our 20th Anniversary Campaign launch! Please consider contributing to help us reach our goal of $2,000,000 to support survivors and their journey toward self-sufficiency and a life free of abuse.
My Sister's House Legacy Circle Members
Michael and Jacqueline Belote Trust – Read their full story (PDF)
Elaine Chiao
Derek Ledda in memory of Cres and Daniel Ledda
Susan Granzella
Trish Higgins and Larry Castro – Read their full story (PDF)
Judge Alice Lytle
Kao Saephanh
Vince A. Sales
Moira Sharma, PSY
Ron and Maeley Tom – Read their full story (PDF)
Darrel and Nancy Woo
Ayanna Yonemura

Recognizing individuals who have made an investment in the future of our survivors.
The Legacy Circle was established to recognize friends and supporters who have included My Sister's House in their estate. As a Legacy Circle member, you are an essential part of our future.
Membership is extended to those who make any of the following commitments:
Include My Sister's House in their trust or will
Establish a gift to My Sister's House, which may include future interest in real estate or charitable remainder trust
Name My Sister's House as the beneficiary of a retirement plan or life insurance policy
Benefits of membership
The opportunity to create your legacy by supporting survivors, ensuring the long-term financial stability of My Sister's House, and inspiring others to join you are the true benefits of belonging to the Legacy Circle.
In addition, Legacy Circle members receive:
Special invitations to functions and events
Certificate of membership signed by the Executive Director and the Chair of the Board of Directors
Recognition in our website and other communication channels
Join the Legacy Circle
We invite you to join the My Sister's House Legacy Circle. For more information to join our Legacy Circle, please contact Shing Long at slong@my-sisters-house.org or (916) 930.0626.
If you have already included My Sister's House in your estate plans, but have not previously notified us, please let us know.