Cultural Responsiveness Training
This is the schedule for our Taking Victim Services to the Next Level 2019-20 trainings. The training will provide strategies on how organizations can adopt a diversity framework, enhance leadership and budget, and increase language access. As space is limited and the training is FREE, we highly encourage Executive Directors and Managers of organizations/agencies providing domestic violence services to register.
The training is a part of the project of the Multi-Year Language Access Resources (MYLAR) Collaborative led by My Sister's House, Center for the Pacific Asian Family (CPAF), Mixteco Indigena Community Organizing Project (MICOP, and Everyday Impact Consulting.
If you have questions please email mylarcollaborative@gmail.com.
Here are the 5 upcoming training dates:
March 19, 2019 – Contra Costa/Alameda, CA
April 16, 2019 – Ontario, CA
June 12, 2019 – Santa Rosa, CA
February 26, 2020 – San Louis Obispo, CA
March 12, 2020 – Redding, CA
Register here: https://bit.ly/2su7P5F
2nd training date details: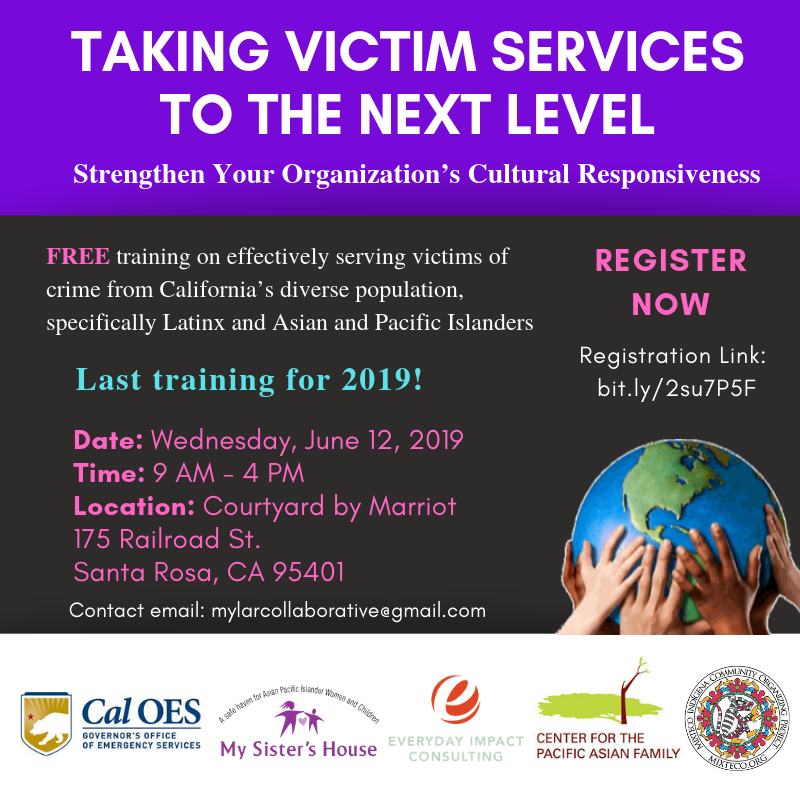 Location:
Courtyard by Marriot
175 Railroad St.
Santa Rosa, CA 95401