14th Anniversary Gala — Stronger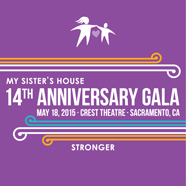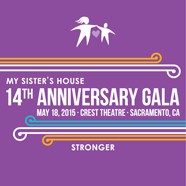 Join us for My Sister's House 14th Anniversary Gala! Enjoy an evening of music and comedy with local celebrities, leaders, and supporters, who will take the stage to perform songs and special dances made famous by artists and celebrities you all know and love. This year's theme, "Stronger," reflects the strength and courage of victims of domestic violence to come forward and make a change in their lives.
Guests will enjoy delicious hors d'oeuvres from 5:00 to 6:30p.m. at the VIP Reception followed by the spectacular and hilarious Performance at 7:00p.m. at the historic Crest Theatre. Don't miss the door prizes, silent auction, raffle and more, all to raise money for My Sister's House.
This year's amazing performer line-up includes:
Jennifer Ablog, Kaiser Permanente and Rodney Stinson, Raney Planning and Management, Inc.
High Voltage Tour Group of El Dorado Hills Musical Theater
Tina Macuha, Good Day Sacramento, accompanied by Iola Rose
Step 1 Dance & Fitness with special guests
College Fund Street Band
West Sacramento Mayor Christopher Cabaldon
Rosemary Younts, Dignity Health
Sarah Billingsley, Sacramento State College of Continuing Education and Michael Billingsley, Department of Social Services
Core Contemporary Dance
Sacramento Gay Men's Chorus Ensemble "Boy Howdy"
Chris Worden, Sac Metro Chamber
Beth Ruyak, Capital Public Radio
Verna Sulpizio, Florin Road Partnership
Christine Calvin, Comstock Magazine
Mike Marion, Drexel University
Mona Pasquil, Appointments Secretary for Governor Edmund G. Brown, Jr.
Maeley Tom, California State Personnel Board
Linda Ng, OCA Sacramento Business Advisory Chair
Putu Blanco, Paul Blanco's Good Car Company
Jim Cooper, Assembly Member of District 9
Rick Jennings, Sacramento City Council Member
Mark S. Allen, Good Day Sacramento
We are also proud to honor these heroes making a difference in the fight against domestic violence, sexual assault, and human trafficking:
Putu Blanco, Paul Blanco Good Car Company
Jan Scully, District Attorney of Sacramento County
We know you will enjoy this must-see event!
Click to buy tickets online or
call (916) 930-0626 to order or
Click to view ticket order form and mail to: My Sister's House 3053 Freeport Blvd. #120 Sacramento, CA 95818
Click here to check out our Facebook event page!
Time: VIP Reception 5:00 p.m. - 6:30 p.m. Performance 7:00 p.m. - 8:30 p.m.
Location:
Crest Theatre
1013 K Street
Sacramento, CA 95814
Tickets:
VIP Tickets: $100, doors open at 5:00 p.m.
General Admission: $50, doors open at 6:30 p.m.
Tickets are also available by calling 916-930-0626 or emailing gala2015msh@gmail.com and paying by check to:
My Sister' s House
3053 Freeport Blvd. #120
Sacramento, CA 95818