16th Anniversary Gala
PURCHASE TICKETS TODAY WITH THIS LINK: https://msh16anniversarygala.eventbrite.com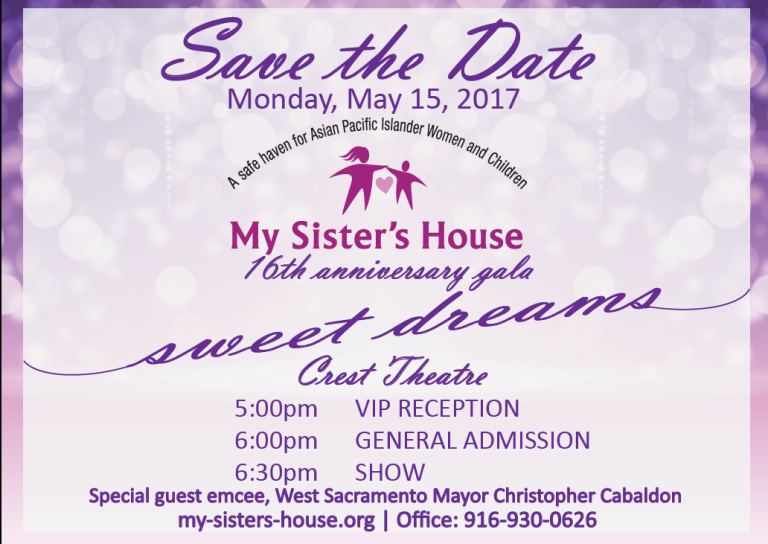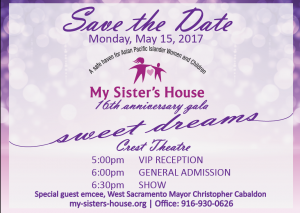 On behalf of My Sister's House, we are pleased to announce our 16th Anniversary Gala on Monday, May 15, 2017, at 6:30 pm, at the Crest Theater, located at 1013 K Street, Sacramento, CA 95814.  This year My Sister's House is proud to honor Mike Belote, President, California Advocates and ABC10 Sacramento as its 2017 Heroes of Hope.
This year's theme "Sweet 16" reflects My Sister's House sixteen years of combating domestic violence, sexual assualt and human trafficking.  In 2016, My Sister's House answered 2,615 crisis phone calls, provided 870 individual counseling sessions, provided 4,008 nights of shelter (emergency,transitional, and anti-human trafficking), utilities, food, case management services, and legal services to more than 400 women and children.
By popular demand, Mayor Christopher Cabaldon of West Sacramento will be back again this year as emcee for this must-see event!  You will want to join us for this fun-filled evening with live entertainment featuring local celebrities, talents, leaders and supporters who will take the stage to perform songs and dances. Last year, more than 600 people attended.
Location:
Crest Theater, 1013 K St, Sacramento, CA 95814
Provided below is the link to purchase tickets: https://msh16anniversarygala.eventbrite.com