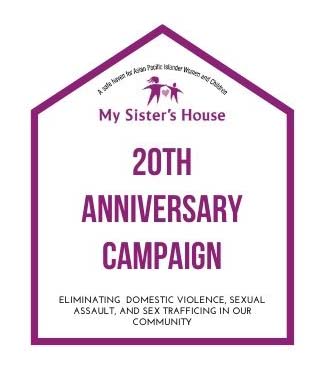 Thank you to our leadership donors for supporting My Sister's House in reaching our campaign milestone and for joining our 20th Anniversary Campaign launch!
List as of June 25, 2021
Benefactor: $25,000+
Kathryn Doi – Read their story (PDF)
SMUD
Chris Tong
Darrel and Nancy Woo
Champion: $5,000 – $25,000
Elaine Abelaye-Mateo and Chris Mateo
Bryan and Janette Cruz
Stefanie Cruz and Jason Shoultz
Michelle Dang
Everyday Impact Consulting
Lee-John and Sonia Fernandes
Rama Sethi-Gulati
Trish Higgins and Larry Castro
Stanley and Corrine Y. Joe
Jeanie Lee Jones
Jessica Heskin and Bob Stephens
May O. Lee
Nancy P. Lee
Yen and Michael Marshall
Anh Phoong
Mohan and Sushila Sethi
Latika Sharma
Moira Sharma, PSYD
Sierra Health Foundation
Genevieve Shiroma and Michael Abbott
Guanzon Valmores
Leader: $2,500 – $4,999
Anonymous
Derek Ledda
Guardian: $1,000 – $2,499
Anonymous
ABAS Law Foundation
Mary McCune
Kaying Hang
Toni Hoang
Kao Saephanh
Vince A. Sales
Darren Suen, Elk Grove City Councilmember
Ron and Maeley Tom
Mai Vang and 15 Siblings
Builder: $100 – $999
Anonymous
Friend up to $99
Anonymous
Join the 20th Anniversary Campaign
Please consider contributing to help us reach our goal of $2,000,000 to support survivors and their journey toward self-sufficiency and a life free of abuse.
For more information on how to join our leadership donors, please contact Nilda G. Valmores at nildamsh@gmail.com or (916) 930.0626.